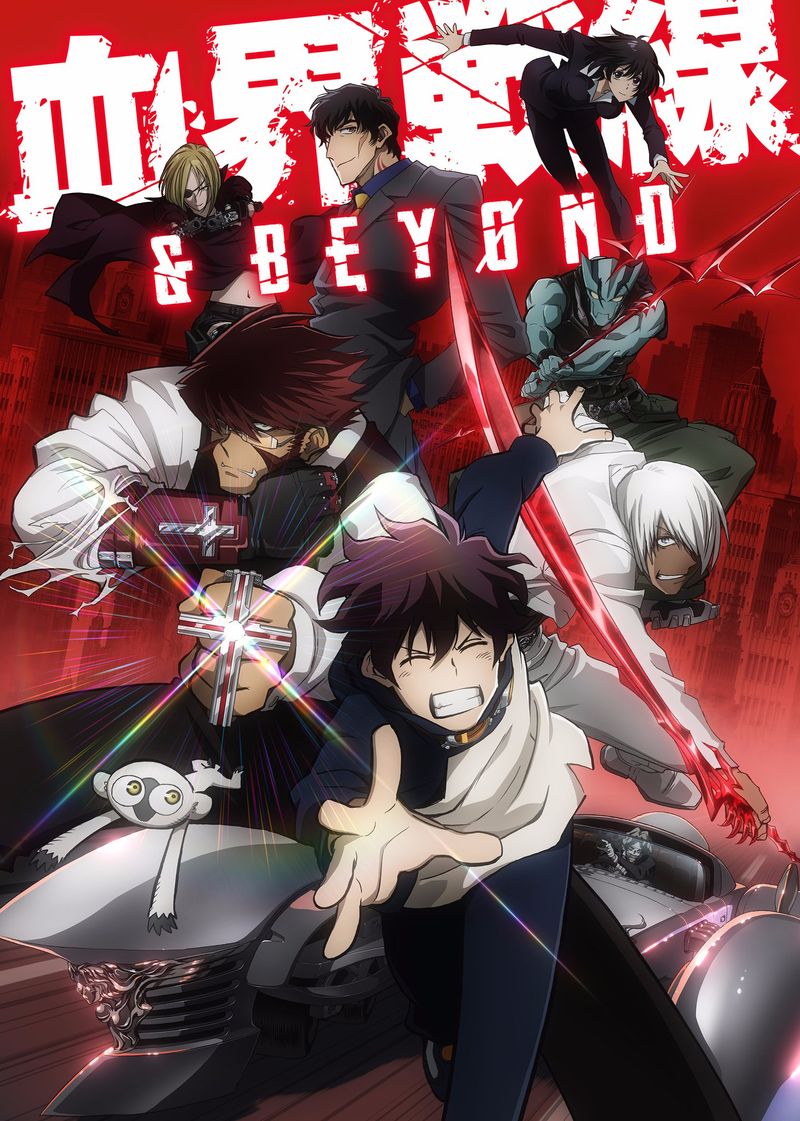 血界战线 & BEYOND / Kekkai Sensen & Beyond / 血界戦線 & BEYOND BDRip
10-bit 1080p HEVC + FLAC + AAC,MKV 格式。每话约 1.2 GB。
内封评论音轨。
感谢
喵萌奶茶屋
精心制作的字幕。
Thanks to
Nekomoe kissaten
for elaborating Chinese subtitles.
原盘质量一般,推测原生分辨率为 720P。画面覆盖有一层中等强度的噪点,片中存在较多暗场。由于大部分线条质量较好,我们并没有对线条进行过多的处理。针对画面背景中存在的大量弱纹理,我们对其进行了适度的增强来提升观感。我们使用了去色带处理并配合自适应降噪来控制体积。最后配合中高码率 x265 参数进行压制。
The original source is of an average quality with an assumed native resolution of 720p. The image is covered by a layer of mid-strength noise, and there are a lot of dark scenes. We didn't work too much on the line-art because most of them are quite good in quality. For those large number of weak textures in the background, we applied proper enhancement to improve visual experience. Also, de-banding and adaptive de-noising were used to control file sizes, and the files were encoded with x265 parameters using mid-high bit-rates.
感谢所有参与制作者 / Thank to our participating members:
总监 / Script:鲤伴
压制 / Encode:鲤伴
整理 / Collate:icefires
复查 / QC:百江なぎさ, 鲤伴
发布 / Upload:Yokawa
分流 / Seed:VCB-Studio CDN 分流成员(详细名单见主站)
感谢所有资源提供者 / Thank to all resource providers:
CD: ST30073@astost&TSDM, tonk@TSDM, むかえに行くよ@TSDM, Amoeba, KSLU@U2, jjkang@ACGJC
本资源扫图格式为 WebP,浏览详情请参见
https://vcb-s.com/archives/7949
。
Please refer to
https://vcb-s.com/archives/7949
if you have trouble viewing WebP images.
基础播放器教程:
PotPlayer
/
MPC-HC
/
IINA
进阶播放器教程:
madVR
/
PotPlayer+madVR
/
mpv
中文字幕分享区:
VCB-Studio 分享论坛
(请善用搜索)
项目计划与列表:
VCB-Studio 项目列表
(每月初更新)
Comparison (right click on the image and open it in a new tab to see the full-size one)
Source________________________________________________Encode