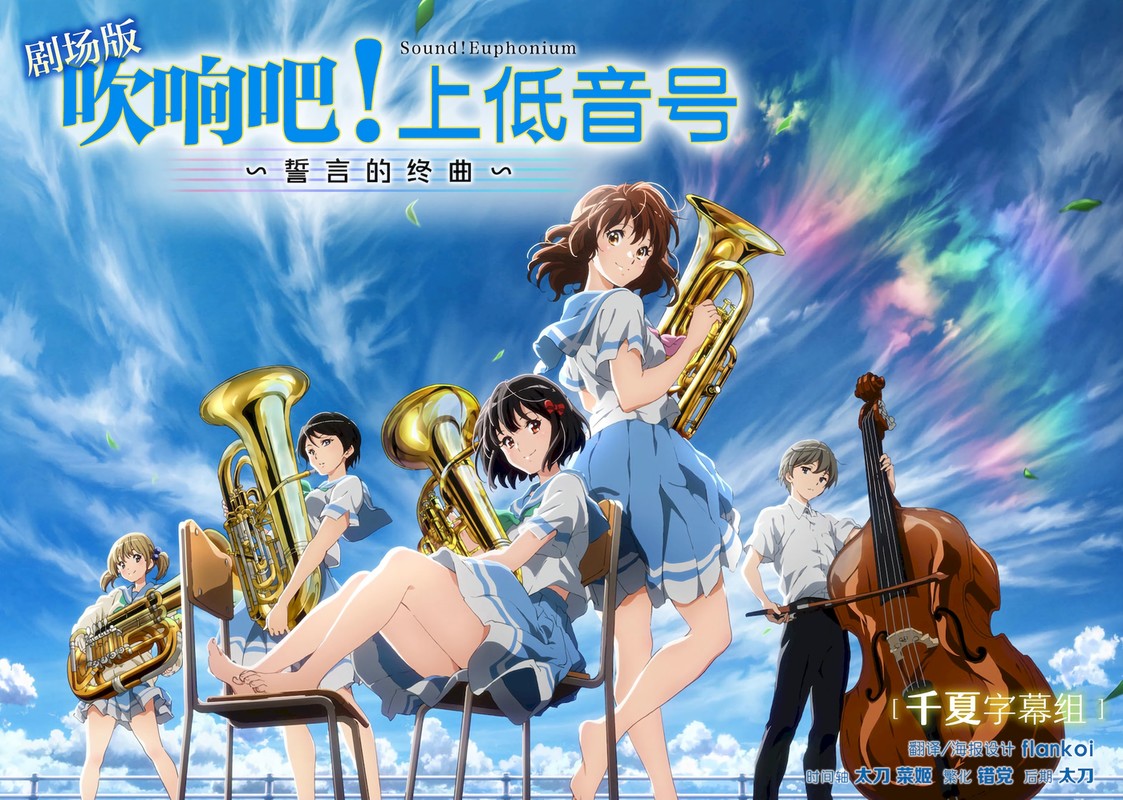 剧场版 吹响吧!上低音号~誓言的终章~ BDRip
Gekijouban Hibike! Euphonium Chikai no Finale BDRip
劇場版 響け! ユーフォニアム ~誓いのフィナーレ~ BDRip
10-bit 1080p HEVC + FLAC,MKV 格式。电影约 5.5 GB。
内封原盘 JPN 字幕。
外挂 FLAC 5.1 + DTS Headphone:X。
这个项目与
千夏字幕组
合作,感谢他们精心制作的字幕。
This project is in cooperation with
Airota
. Thanks to them for elaborating Chinese subtitles.
誓言的终章的 BD 原盘质量非常好,保持了与莉兹与青鸟一致的高水准。画面基本没有明显瑕疵,许多场景覆盖着一层很漂亮的弱噪点,线条清晰,纹理丰富。因此我们只采用了最保守的抗锯齿和抗色带处理,保留了绝大部分噪点,并辅以微弱的纹理增强以弥补编码造成的线条柔化,微微提升目视锐度。考虑到本作优秀的画质,编码参数也采用了高还原度的组合。
The Blu-ray of Gekijouban Hibike! Chikai no Finale has outstanding image quality, upholding the same high standard as we have seen in Liz to Aoi Tori. There are hardly any noticeable artifacts. Many scenes are pleasantly overlaid with fine grains, complemented with clean, smooth lines and rich textures. Therefore, we applied only the most conservative de-banding and de-ringing to retain as many of those grains as possible. We then applied very mind texture enhancement in advance to offset the loss in perceived sharpness, as encoding would subsequently blur the lines. Given the stunning visuals of this anime, the encoding parameters were also chosen to be high-quality.
看到关西大赛的广角旋转镜头,忍不住要说,minori 正统在京阿尼。by 静流的抱枕
优子可爱!by 百江なぎさ
夏纪小天使!by ANLOF
感谢所有参与制作者 / Thank to our participating members:
总监 / Script:静流的抱枕
压制 / Encode:某位粳米组员
整理 / Collate:百江なぎさ
复查 / QC:ANLOF
发布 / Upload:Tom
分流 / Seed:VCB-Studio CDN 分流成员(详细名单见主站)
感谢所有资源提供者 / Thank to all resource providers:
CD: sagisawafumika@TSDM, MessIAН@TSDM, あおば@TSDM[https://www.tsdm.live/forum.php?mod=viewthread&tid=940012], TSDM合购区
BDBOX Scan: Mizore@Voice Memories
本资源扫图格式为 WebP,浏览详情请参见
https://vcb-s.com/archives/7949
。
Please refer to
https://vcb-s.com/archives/7949
if you have trouble viewing WebP images.
基础播放器教程:
PotPlayer
/
MPC-HC
/
IINA
进阶播放器教程:
madVR
/
PotPlayer+madVR
/
mpv
中文字幕分享区:
VCB-Studio 分享论坛
(请善用搜索)
项目计划与列表:
VCB-Studio 项目列表
(每月初更新)
Comparison (right click on the image and open it in a new tab to see the full-size one)
Source________________________________________________Encode